The rangers get Super Ninja powers and some help from some Legendary Rangers.
(Adapted from Shuriken Sentai Ninninger)
The Ranger have a new villain to deal with when they realize that Madame Odius has survived and with a little help from some Legendary friends they can defeat her.
Characters
Edit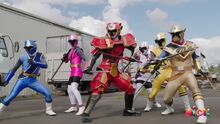 Redbot
Mick Kanic
Dane Romero
| | |
| --- | --- |
| Space Sheriff Skyfire | Space Sheriff Skyfire |
Civilians
Edit
Monty
Victor Vincent
Principal Hastings
Sandy
Emma Harris
Legendary Rangers
Edit
Color
Character
Face Claim
Team

Green Ranger
White Ranger
Zeo Ranger V Red
Black Dino Ranger

Tommy Oliver
Jason David Frank
Mighty Morphin
Zeo
Dino Thunder
Red Ranger
Rocky DeSantos
Steve Cardenas
Mighty Morphin
Pink Turbo Ranger
Katherine Hillard
Catherine Sutherland
Turbo
Blue Space Ranger
T.J. Johnson
Selwyn Ward
In Space
Time Force Red
Wesley Collins
Jason Faunt
Time Force
White Dino Ranger
Trent Fernandez-Mercer
Jeffrey Parazzo
Dino Thunder
Ranger Operator Series Silver
Gemma
Li Ming Hu
RPM
Gold Samurai Ranger
Antonio Garcia
Steven Skyler
Samurai
Megaforce Yellow
Gia Moran
Ciara Hanna
Megaforce
Dino Charge Blue Ranger
Koda
Yoshi Sudarso
Dino Charge
Villains
Edit
Galaxy Warriors
Edit
Madame Odius
Cosmo Royale
Badonna
General Tynamon
Brax
Kudabots
Basherbots
Upgraded Basherbots
Foxbots
Buzzcams
Skullgators
Warrior Contestants

Smellephant
Deceptron
Spyclops
Doomwave
Game Goblin
Galactic Ninjas

Wolvermean
Speedwing
Rygore
Venoma

Dreadwolf
Blammo
Typeface
Voltipede
Megamauler
Gorrox
Gruesome Grunts
Edit
Versix
Fangore
Jabberon
Stabberous
Shelldax
Plasmora
Ackshun
Sledge's Crew
Edit
Sledge
Poisandra
Wrench
Ghost Monster
Kuliner Monster
Snow Fight
Antiverse
Edit
Transformation Devices
Edit
Ninja Battle Morpher

Sword Mode
Bow Mode
Claw Mode

Gold Ninja Battle Morpher
Lion Fire Morpher
SuperStar Blade
Multi-Use Devices
Edit
Individual Weapons and Team Weapon
Edit
Rockstorn Guitar
Burger Camera
Sidearms
Edit
Ninja Star Blade
Ninja Blaster
Cockpit Control Weapons
Edit
Ninja Master Blade
Ninja Super Steel Blaster
Vehicles
Edit
Legend:◆ piloted mecha,  2-person mecha, ❖ auxiliary mecha
Ninja Ultrazord ◆◆◆◆◆◆❖◆

Ninja Fusion Zord ◆◆◆◆◆◆❖

Ninja Steel Megazord ◆◆◆◆◆

Robo Red Zord ◆
Dragon Zord ◆
Nitro Zord ◆
Kodiak Zord ◆
Zoom Zord ◆

Bull Rider Megazord ◆❖

Robo Rider Zord ◆
Ninja Bull Zord ❖

Lion Fire Zord/Lion Fire Megazord ◆

Ninja Blaze Megazord ❖❖❖❖❖❖

Falcon Zord ❖
Serpent Zord ❖
Tortoise Zord ❖
Tiger Zord ❖
Panda Zord ❖
Piranha Zord ❖
Auxiliary
Edit
Rumble Tusk Zord ❖
Astro Zord ❖
Sub Surfer Zord ❖
Alternate Combinations
Edit
Ninja Steel Megazord Dragon Formation ◆❖❖❖❖
Rumble Tusk Ninja Steel Megazord ❖❖❖❖❖❖

Rumble Tusk Ninja Steel Megazord (w/o Robo Red Zord) ❖❖❖❖❖

Astro Ninja Steel Megazord ❖❖❖❖❖❖

Astro Ninja Steel Megazord (w/o Robo Red Zord) ❖❖❖❖❖

Sub Surfer Ninja Megazord ❖❖❖❖❖❖
Ninja Blaze Ultrazord ❖❖❖❖❖❖◆❖◆
Legendary Zords
Edit
Community content is available under
CC-BY-SA
unless otherwise noted.