The Solar Flare Rangers we formed as a usual Power Rangers team but being the last team to answer the call they unintentionally bring some of their villains with them.
(Inspired by Taiyo Sentai Sun Vulcan)
Solar Flare Rangers are formed when Villains known as Magma tried to take over the Earth it is some of these villains that follow them when they are called to help.
Character
Edit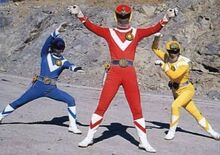 All Legendary Ranger teams
Villains
Edit
Freya the Amazon Warrior
Various Magma Monsters
Sidearms
Edit
Team Weapons
Edit
Solar Ball
New Solar Ball
Vehicles
Edit
Solar Jeep ◆
Solar Shark Cycle ◆
Solar Panther Cycle ◆
Legend : ◆ piloted zord, ✶ team-piloted zord, ➲ carrier zord
Jaguar Carrier Zord ➲
Solar Flare Megazord ◆

Cosmo Zord ◆
Solar Bull Zord 
Community content is available under
CC-BY-SA
unless otherwise noted.