The new space colony Terra Venture leaves Earth to search for a new world. New Rangers emerge to protect Terra Venture from Evil.
(Adapted from Seijuu Sentai Gingaman)
In the year 1999, the Galactic Space Alliance launch the space colony Terra Venture. The Quasar Sabers choose those worthy to become the Galaxy Rangers as a new evil threatens not only Mirinoi but Terra Venture as well.
Characters
Edit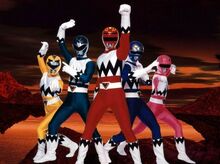 | Color | Character | Face Claim |
| --- | --- | --- |
| Galaxy Red | Leo Corbett | Danny Slavin |
| Galaxy Blue | Kai Chen | Archie Kao |
| Galaxy Green | Damon Henderson | Reggie Rolle |
| Galaxy Yellow | Maya | Cerina Vincent |
| Galaxy Pink | | Valerie Vernon ► Melody Perkins |
| Magna Defender | Magna Defender ► Mike Corbett | Kerrigan Mahan ► Russell Lawrence |
Alpha 6
DECA
Space Rangers
Guardian
Lightspeed Rangers
Zika
Civilians
Edit
Bulk
Skull
Professor Phenomenus
Galactic Space Alliance

Commander Stanton
High Councilor Reiner
Councilor Brody

Shondra
Jera
Jodie Stanton
Villians
Edit
Scorpius/Trakeena's Army

Scorpius
Trakeena
Furio
Treacheron
Deviot
Villamax
Kegler
Stingwingers
Psycho Rangers

Captain Mutiny's Crew

Captain Mutiny
Barbarax
Titanisaur
Hexuba
Swabbies
Morphers
Edit
Transmorphers
Magna Defender Morpher
Quasar Sabers
Transdaggers

Magna Talon
Cosma Claw
Trans Blaster
Delta Daggers
Beta Bow

Quasar Launchers
Magna Blaster
Power-Up
Edit
Lights of Orion
Red Armored Ranger
Vehicles
Edit
Astro Megaship
Jet Jammers
Astro Cycles
Legend:◆ piloted zord, ➲ carrier zord, ● other, ◆ zord form
Galactabeast Zord System
Edit
Galaxy Megazord: Power-Up Mode ◆◆◆◆◆●

Galaxy Megazord ◆◆◆◆◆

Lion Galactabeast ◆
Condor Galactabeast ◆
Gorilla Galactabeast ◆
Wolf Galactabeast ◆
Wildcat Galactabeast ◆

Lights of Orion ●

Defender Torozord ◆◆

Torozord ◆
Mega Defender ◆

Rhino Galactabeast/Centaurus Megazord ❖❖❖❖❖
Phoenix Galactabeast/Stratoforce Megazord ❖❖❖❖❖
Shark Galactabeast/Zenith Carrierzord/Zenith Carrierzord: Warrior Mode ➲
Community content is available under
CC-BY-SA
unless otherwise noted.