New Rangers are chosen each with a unique ability that translates into their powers and like the ranger teams before them they must protect the Earth from evil.
(Adapted from Kyukyu Sentai GoGoFive)
In 2000, in Mariner Bay, the Lightspeed Rescue Rangers are chosen by Captain Mitchell based on special talents they have, they will come together to fight a new evil.
Characters
Edit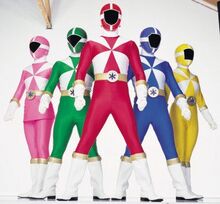 Aquabase Staff

Captain Mitchell
Angela Fairweather

Neptune
Marina
Galaxy Rangers
Time Force Rangers
Villains
Edit
Demons

Queen Bansheera
Impus/Prince Olympius
Diabolico
Loki
Vypra
Jinxer
Batlings

Guest Villains

Trakeena
Triskull
Ghouls
Cyborg Rangers
Morphers
Edit
Rescue Morpher
Titanium Morpher
Sidearms
Edit
Rescue Blasters
V-Lancers
Thermo Blasters
Individual Weapons/Team Blaster
Edit
Rescue Bird

Rescue Claw
Rescue Laser
Rescue Cutter
Rescue Drill
Rescue Injector

Titanium Laser
Power-Up
Edit
Battle Boosters

Lightspeed Megabattle Armors
Vehicles
Edit
Rescue Rover
Lightspeed Cycle
Mobile Armor Vehicle
Trans Armor Cycle
Legend:◆ piloted zord, ✶ team-piloted zord, ● other
Lightspeed Rescuezord System
Edit
Lightspeed Solarzord ◆◆◆◆◆◆

Lightspeed Megazord ◆◆◆◆◆

Pyro Rescue 1 ◆
Aqua Rescue 2 ◆
Aero Rescue 3 ◆
Haz Rescue 4 ◆
Med Rescue 5 ◆

Max Solarzord ◆

Lifeforce Megazord ✶
Rail Rescue System
Edit
Supertrain Megazord ◆◆◆◆◆

Rail Rescue 1 ◆
Rail Rescue 2 ◆
Rail Rescue 3 ◆
Rail Rescue 4 ◆
Rail Rescue 5 ◆
Omegazord System
Edit
Omega Megazord: Power-Up Mode ◆◆◆◆◆●

Omega Crawler/Omega Megazord ◆◆◆◆◆

Omegazord 1 ◆
Omegazord 2 ◆
Omegazord 3 ◆
Omegazord 4 ◆
Omegazord 5 ◆

Lights of Orion ●
Community content is available under
CC-BY-SA
unless otherwise noted.