Despite not being the first Power Rangers team they are the first to respond when Dr.K calls for reinforcements from past Ranger teams.
(Inspired by Denshi Sentai Denziman)
This Legendary team of Rangers was put together when their world was threatened like most ranger teams before and after them, They are the first Legendary ranger team to answer Dr.K's call for help.
Characters
Edit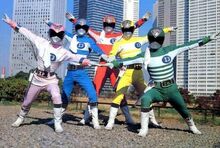 Villains
Edit
Morphers
Edit
Sidearms
Edit
Electric Spark Stick
Electric Spark Punch
Vehicles
Edit
Electric Spark Cycle ◆
Electric Spark Buggy ◆◆◆◆
Electric Spark Boats
Legend:✶ team-piloted zord, ➲ carrier zord
Electric Spark Tiger ➲
Electric Spark Fighter ✶
Community content is available under
CC-BY-SA
unless otherwise noted.