A familiar face joins a new team of Rangers. A new threat means a new team of Power Rangers.
(Adapted from Bakuryuu Sentai Abaranger)
Bio
[
]
In the year 2004, Tommy Oliver is now a Paleontology professor in Reefside, California, he and three of his sudents become the Dino Thunder Power Ranger.
Characters
[
]
Rangers
[
]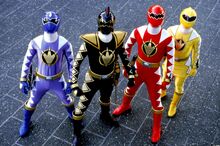 Villains
[
]
Mesogog's Army

Mesogog
Elsa/Principal Randall
Zeltrax
Tyrannodrones
Triptoids

Lothor's Army

Lothor
Izzy & Pupperazi
Zurgane
Kelzaks
Civilians/Allies
[
]
Cassidy Cornell
Devin Del Valle
Hayley Ziktor
Anton Mercer
Mr. Cormier
Ninja Storm Rangers

Wind Rangers

Shane Clarke
Dustin Brooks
Tori Hanson

Thunder Rangers

Blake Bradley
Hunter Bradley

Cameron Wantanabe

Sensei Kanoi Watanabe
S.P.D. B-squad Rangers
Arsenal
[
]
Morphers
[
]
Dino Morphers
Brachio Morpher
Drago Morpher
Triassic Morpher
Multi-Use Devices
[
]
Sidearms
[
]
Individual Weapons and Team Blaster
[
]
Z-Rex Blaster, Super Mode

Z-Rex Blaster (Brachio)

Z-Rex Blaster

Tyranno Staff
Tricera Shield
Ptera Grips

Brachio Staff

Drago Sword
Power-Up
[
]
Super Dino Mode
Shield of Triumph
Vehicles
[
]
Raptor Riders
Raptor Cycles
Dino ATVs
Hovercraft Cycle
Triceramax Command Center Truck
Zords
[
]
Legend:◆ piloted zord, ❖ aux zord, ➲ carrier zord
Biozord/Dinozord System
[
]
Thundersaurus Megazord ◆◆◆

Incomplete Thundersaurus Megazord ◆◆

Tyrannozord ◆
Tricerazord ◆

Pterazord ◆

DinoStegazord ◆❖/◆◆

Dragozord ◆
Stegozord ◆/❖

Triceramax Megazord ◆❖❖❖❖/◆❖❖❖❖

Mezodon Rover/Mezodon Megazord ◆/◆
Cephalazord ❖/❖
Dimetrozord ❖/❖
Parasaurzord ❖/❖
Ankylozord ❖/❖

Brachiozord ➲
Alternate Combinations
[
]
Alternate Megazords
Valkasaurus Megazord ◆◆◆◆◆◆
Thundersaurus Megazord
Thundersaurus Megazord with Cephala Puncher ◆◆❖
Thundersaurus Megazord with Dimetro Saw Blade ◆◆◆❖
Thundersaurus Megazord with Stega Surfboard ◆◆◆❖
Thundersaurus Megazord with Parasaur Cutter ◆◆◆❖
Thundersaurus Megazord with Ankylo Drill ◆◆❖
Thundersaurus Megazord with Ankylo Drill and Parasaur Cutter ◆◆❖❖
Dino Stegazord
Dino Stegazord with Cephala Puncher and Dimetro Saw Blade ◆❖❖❖
Dino Stegazord with Ankylo Drill and Parasaur Cutter ◆❖❖❖
Evil Zords
[
]